The 2011 Central Florida Change Your Mind Day brought eight Buddhist leaders from several traditions together for a day of meditation and dharma teachings at Wat Florida Dhammaram in Kissimmee on September 24. The event, which is free and open to the public, was co-hosted by Wat Florida Dhammaram and Volusia Buddhist Fellowship.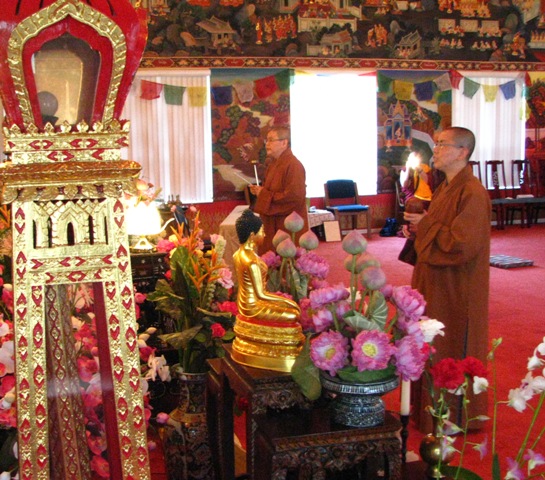 Established as an outgrowth of Tricycle Foundation's international day of Buddhist awareness, this year's Central Florida Change Your Mind Day included tours of the monastery's grounds, along with talks and guided meditations by Wat Florida's abbot, Than Chaokhun Phra Vijitrdhammapani and Volusia Buddhist Fellowship Sensei Morris Sekiyo Sullivan.
Other presenters include teachers from Tibetan, Vietnamese and American Buddhist traditions: Ani Chime, Drikung Dharmatara Ling Center (Davenport); Venerable Chueh Fan, Guang Ming Temple (Orlando); Sayo Shenphen, Boundless Light Sangha (Orlando); Ven. Khai Thien, White Sands Buddhist Center, (Mims); Michael Kane, Natural Meditation Community (Ormond Beach); and Walter Dobbins, Ormond Sangha.
Volusia Buddhist Fellowship organized the first Change Your Mind Day in Central Florida in 2005, which drew capacity crowds to a West Volusia yoga studio. "That first Change Your Mind Day woke us up to the realization that a lot of people were interested in meditation and Buddhism," Sullivan said. "We had teachers from Gainesville and on down to Orlando and Brevard County, and people came from all over the state to listen to them."
The event continued in DeLand the following year, but organizers decided to rotate it from community to community. It will return to DeLand in 2012.
"We've had it in Ormond Beach and Melbourne," Sullivan said. "This is the first time in Kissimmee, although the abbot has been a part of Change Your Mind Day since the second one. It's working out very well—the abbot really wanted us to make ourselves at home, so we expanded the schedule and can include more speakers."
There were four new speakers this year: Ani Konchok Chime; Ven. Chueh Fan; Ven. Khai Thien; and Sensei Sayo Shenphen. Sullivan and Than Chaokhun estimated approximately 150 people attended the event, which lasted from 10 a.m. to 5 p.m.
Buddhism is the fifth largest religion in the world and the fastest-growing religion in the United States. According to the 2008 Pew Forum Religious Landscape Survey, more than 2 million Americans identify themselves as Buddhist.
"I think there's a lot of spiritual uncertainty in America right now," Sullivan said. "At times, it seems like our culture is built around greed, anger and irrationality, which in Buddhism are considered the three main causes of suffering. I think a lot of us realize that those attitudes cause a lot of trouble and are looking for ways to transcend them. Buddhism offers a path away from that—toward a better way to live."